Learn Python® – the fastest growing programming language in the world
Python is the programming language that opens more doors than any other, and the more you understand Python, the more you can do in the 21st Century. With a solid knowledge of Python, you can work in a multitude of jobs and a multitude of industries.
Software Engineer, Software Developer, Machine Learning Engineer, AI Engineer, DevOps Engineer, Full Stack Developer, Data Scientist, Project Manager, Systems Administrator, Security Engineer, Tester... The jobs that involve Python are varied and interesting. And there are many of them.
The choices you make every day shape your reality and determine who you are, but your life-changing decisions determine who you become. Here at OpenEDG, we believe in the value of education and certification, and in the power of life-changing decisions.
Follow one of the OpenEDG Python Institute professional development programs, learn, certify your skills to kickstart your career as a developer, and achieve the ultimate goal – landing your dream job.
Complete the course and get an education that will equip you with the skills and knowledge you need in order to succeed in your chosen career. Pass the exam and obtain industry certification, and you will be in possession of the right tools to get the job you want. The right industry-recognized certification opens the right doors, and allows you to take full advantage of all the opportunities you find on the other side.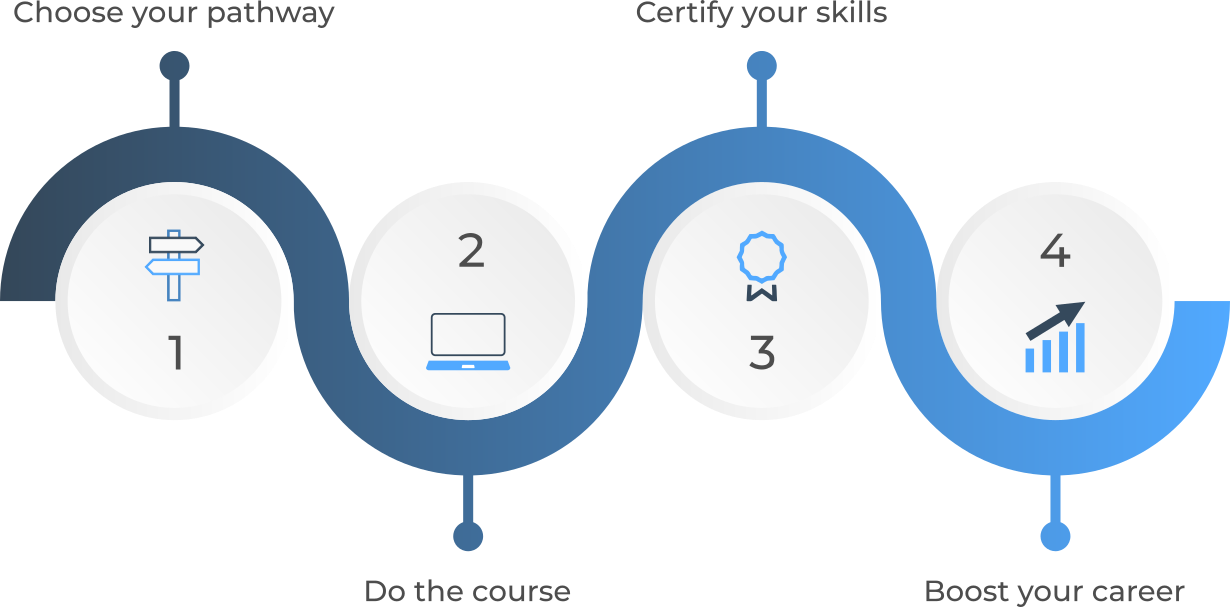 Why learn Python?
Python Institute courses are distinguished by their affordability, friendliness, and openness to the student. They all start from the absolute basics, guiding you step by step to complex problems, making you a competent and responsible software creator able to undertake different challenges in many positions in the IT industry. Having said that, there are at least five good reasons why you should learn Python:
Have employment security: We're living in the era of technology, in a world where technological progress never stops, and where people use numerous Python-powered devices on a daily basis, whether they realize it or not. In this world, there is an extremely high demand for programmers, and nothing indicates that this will change any time soon, if at all.




Earn a decent salary: Free, open-source and easy-to-learn, Python now dominates the Internet landscape, and the salaries of its programmers reflect this. With a strong foothold in the Internet of Things and AI, among others, Python Developers are now among the highest-paid programmers in the tech industry.

At any one time, there are upwards of 100,000+ unfulfilled Python jobs around the world, and currently the supply of qualified Python programmers is unable to match the demand. With the ever-increasing reliance on the Internet, and with Python playing an ever-growing role, the salary of the average Python programmer is almost surely to rise.




Work remotely

: Most programming jobs are based in North America and Western Europe, but even if you can't get to either of those places, wherever you are right now, you can be sure that your Python skills are in great demand, and you will be paid for them.

According to an

analysis carried out by The Economist

, only 13% of the jobs analyzed in 2011 in a thread called "Who is hiring" mentioned the possibility of remote work. Ten years later, in 2021, it was more than 75%, with the coronavirus pandemic accelerating that change. And since programming requires little more than a computer with access to the Internet, more and more employees have the opportunity to work remotely from the comfort of their homes.




No need for CS/IT degree: Programmers typically need a bachelor's degree in computer science, IT, or a related field, such as mathematics or engineering, but an increasing number of programming jobs, especially those related to the more specific fields of industry, no longer require this as a prerequisite. Instead, companies and recruiters are far more interested in your programming skills and project portfolio, your expertise in a given field, and any industry-recognized credentials that can help you land a job.

Programmers can become certified in programming languages, or for specific products, and certain companies require that their programmers be certified in the products they use, or in order to set a benchmark of programming proficiency, skills and expertise each programmer should demonstrate.




Become a creator: Last but not least, programming skills will not only get you familiar with how software, apps, and devices work, but they will also give you a chance to translate your ideas into digital, working, and more tangible forms. This is probably one of the most fun, satisfying, and enjoyable advantages to programming – having a real impact on things, building them, and developing different features. Write your own computer programs, create your own apps, and put your thoughts and ideas to life!
Learn with Edube Interactive™ – the Learning Tool
Edube Interactive is not just another learning platform – it takes your learning and assessment experience to the next level. With Edube, you learn to program by doing, with all the most important elements of interactive learning scenarios, gamified motivation systems, and well-planned learning paths.
Study, practice, and certify:
✔ Test and experiment with your code in the Sandbox – an online, browser-based programming environment integrated with the courses and study resources.
✔ Put what you've learned into practice – perform lab scenarios, and take assessment tests to see how well you've mastered the programming concepts and techniques covered by the course.
✔ Finally, take the certification exam to earn industry-recognized credentials, pursue a career in IT and programming, and land your dream job.

Your goal is our goal!
All our courses cover both theoretical and practical concepts that are essential for interacting with real-life programming tasks and situations. They contain quizzes, tests, interactive assessments, and lab exercises that facilitate the understanding of programming concepts and the conversion of knowledge into practical skills. They have been designed and reviewed by experienced faculty and industry professionals, with the goal of meeting current market trends, and equipping you with a handset of skills for careers in software development, IT, and related technologies.
The courses are aligned with industry certifications which help to validate your skills and gain recognition for your programming expertise. They cover all the levels of programming language proficiency: entry, associate, and professional.
Edube Interactive is a fully integrated learning and assessment system that takes you all the way from beginner to expert, and prepares you for the real world of programming.