PCED™ – Certified Entry-Level Data Analyst with Python
(Exam PCED-30-0x)
The PCED certification signifies the holder's familiarity with foundational data analytics concepts, data acquisition, pre-processing techniques, basic programming practices, and essential statistical knowledge pivotal for data science.
PCED – Certified Entry-Level Data Analyst with Python certification (Exam PCED-30-0x) underscores a candidate's elementary skills and understanding in data analysis. It provides stakeholders, from educators to industry professionals, confidence in an individual's ability to process and interpret data effectively, emphasizing Python expertise.

The PCED certification validates that an individual possesses foundational proficiency in Python for tasks such as data acquisition, cleaning, validation, analysis, and visualization. The certification attests to the holder's elementary knowledge in the realm of data analytics, including the fundamentals of data pre-processing, statistical analysis, programming techniques, and their skills in harnessing Python for tasks such as data scripting, extract-transform-load (ETL) processes, and utilizing essential Python libraries like Pandas, NumPy, and basic visualization tools.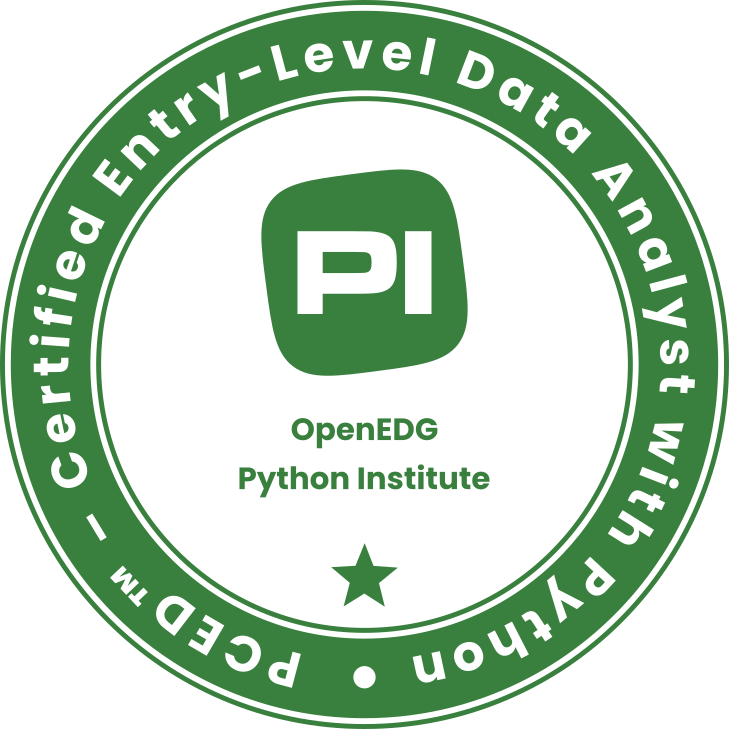 Becoming PCED certified signifies that the individual has a foundational grasp of data analytics concepts, methodologies, and practices. Additionally, they are introduced to the core tools and techniques in Python 3 for conducting preliminary data analysis. This certification sets the groundwork for them to advance further in their studies and lays the first stones on their journey towards a data scientist's career.
The PCED certification is a stepping stone to the more advanced PCAD™ certification. It serves as a motivation for continuous learning and personal growth. More than that, it's an opportunity to keep one's beginner-level Python data science skills refreshed and validated. Acquiring the PCED certification showcases the candidate's commitment to understanding the basics of Python-driven data analysis. It is a testament to their budding capacity to engage in both commercial and non-commercial data analytics endeavors, and to start building a portfolio that enhances their professional appeal in the job market.

Become PCED™ certified and set your foundation in data analytics
Python has emerged as a linchpin in the world of data analytics and science. In today's digital age, being equipped with foundational Python skills can significantly enhance your professional trajectory and adaptability. Grasping the basics of Python, especially in the realm of data, is a stepping stone to countless career opportunities in the dynamic domain of analytics and beyond.
PCED certification is a foundational credential for individuals desiring to get a grasp on the essential skills and knowledge that will pave the way to more specialized, advanced areas like Data Science, Data Visualization, Statistical Analysis, and Machine Learning. The PCED certification is especially relevant for:
Beginner data enthusiasts eager to understand the basics of data analytics and the role of Python therein;
New learners and those shifting careers targeting entry-level roles such as junior data analyst or research assistant;
Professionals from other domains curious about the interconnected world of data analytics and how Python serves as its backbone;
Beginner analysts and budding professionals aiming to cement their foundational knowledge before delving into advanced realms like data mining, predictive analytics, and data modeling;
Managers, strategy consultants, and team leaders keen on understanding the nuances of data analytics to enhance decision-making processes and to efficiently collaborate with data teams.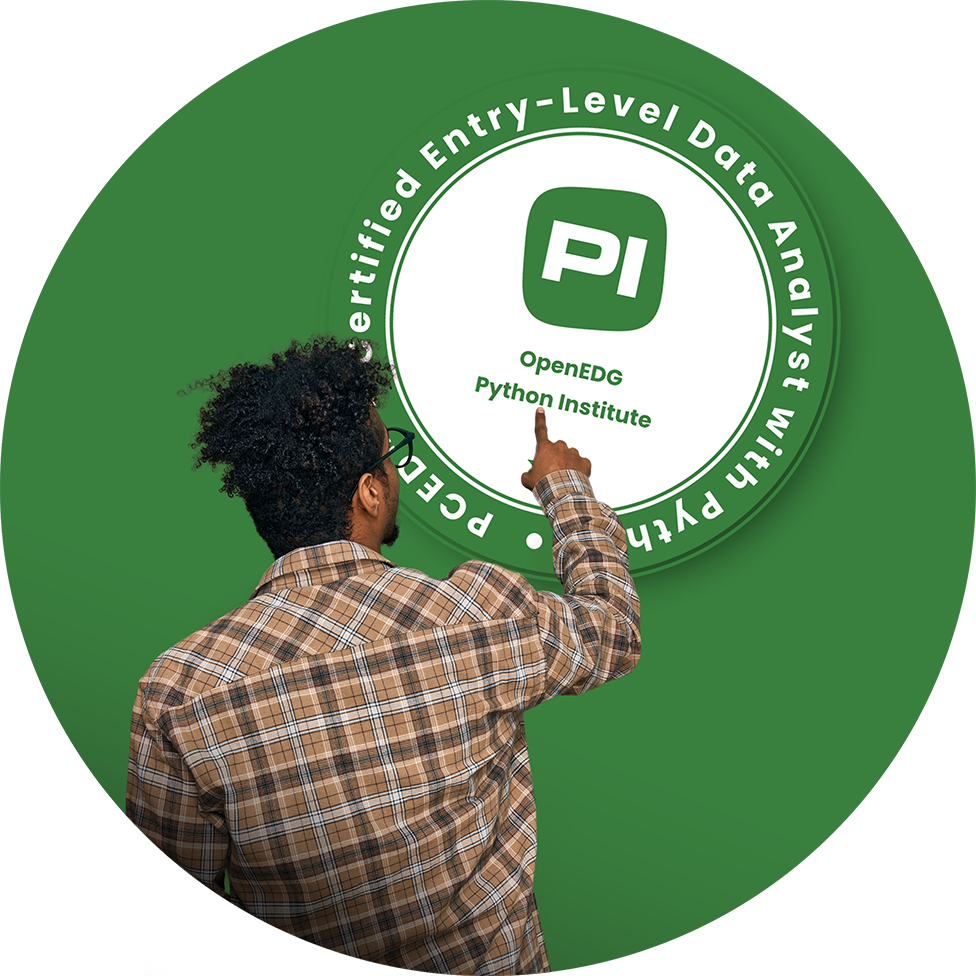 Python has established itself as a premier tool in the data science realm, with an overwhelming 3 out of 4 data experts choosing it for their data-driven tasks. This preference is reflected in the competitive compensation, as Python data analysts and scientists typically earn between $60,000 and $130,000 a year (source: SalaryExpert.com).
The rise of data-centric approaches across industries underscores the intrinsic value of Python proficiency in data analytics. As businesses pivot to data-driven strategies, the demand for adept Python professionals in the field intensifies, pointing to a favorable trajectory in compensation and opportunities.
This growing emphasis on data has led to a noticeable gap in skilled professionals. Currently, there are 200,000+ unfulfilled job roles worldwide tailored for data analytics, with a significant portion of these vacancies located in the U.S. The figures highlight the vast potential for those aiming to carve a niche in this burgeoning domain.
PCED™ Exam Information
SPECIFICATIONS ITEM
DESCRIPTION
Exam name
PCED – Certified Entry-Level Data Analyst with Python
Exam Code & Current Exam Versions
PCED-30-01
Pre-requisites
Formal: None
Experience: PCEP & PCAP or equivalent
Validity
Lifetime
Exam Duration
Exam: 40 minutes + NDA/Tutorial: 5 minutes
Number of Questions
40
Format
Single- and multiple-select questions | Python 3.x
Passing Score
70%
Languages
English
Cost

USD 59 (Exam)
USD 76.70 (Exam + Retake)

Delivery Channel
OpenEDG Testing Service (TestNow™)
Testing Policies
PCED Testing Policies
Exam Syllabus
PCED Exam Syllabus
Associated Certifications
PCAD – Certified Associate Data Analyst with Python (coming Q4 2023/Q1 2024)
Courses Aligned
TBA